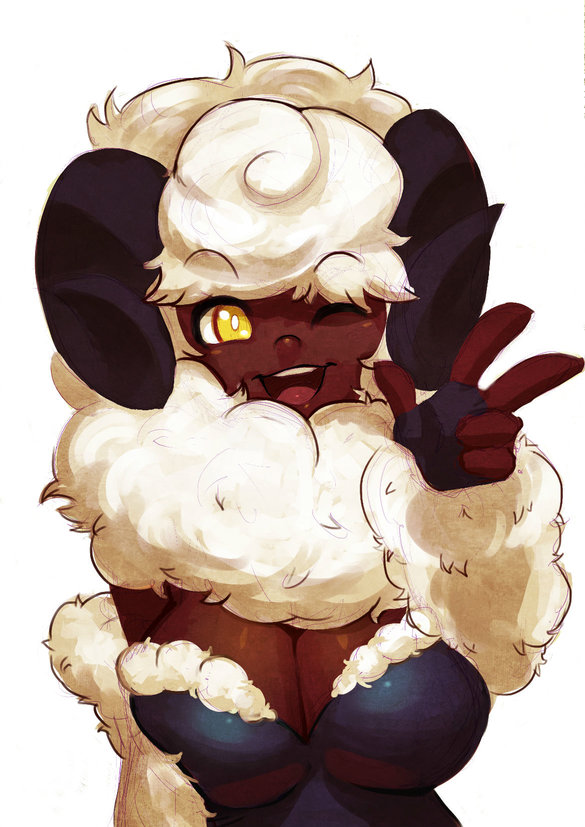 ---
Character Information
Name:
Mary Blacksheep
Alias:
Little Lamb
Age:
28
Birthday:
13/4
Gender:
Female
Blood Type:
B+
Appearence
Height:
5'10
Weight:
80kg
Hair Color:
Cream White
Eye Color:
Yellow
Statistics
Status:
Alive
Occupation:
Substitute Teacher/Hero
Affiliation:
Osaka Nae Academy Teacher/Hero
Team(s):
Hero!
Quirk:
Ram and Sheep
Stats
Strength:
13/20
Agility:
15/20
Speed:
15/20
Toughness:
9/20
Intelligence:
6/20
Quirk Control:
20/20
Character Description
A big pile of fluff. Mary is a RAM and is not a sheep, although her big fluffy creamy wool may say otherwise. She has human hands but cloven hoofs for feet. Her skin tone is a dark black that contrasts her white wool. Her horns are large and curved, spiraling and sitting beside her head. She's mostly lived in the country and or mountain areas as her quirk excels in those scenarios thus has a southern type accent. As a Hero she is more focused in Disaster saving than fighting although still does get called. She walks upright most of the time although when lazy or tired is seen walking about on all fours, her puffball tail is very fluffy. No touch fluffy tail.
Last edited by Kiss on Fri Oct 13, 2017 8:32 am; edited 2 times in total
Story
Born a little lamb out in the fields and mountains, raised by Goat parents. This little would soon become a Hero who's goal is focused on Disaster control, as her quirk allowed her the abilities to assess most dangerous surfaces or terrain. Although one day against a Villain she suffered an injury to a bone that will require long term healing thus putting a temporary hold on her Hero work. Thus has decided to qualify as a Sub teacher at Osaka Nae Academy as an all around knowledgeable hero in recovery!
Last edited by Kiss on Fri Oct 13, 2017 8:32 am; edited 3 times in total
Quirk Data
Name:
Ram and Sheep
Type:
Mutation
Range:
Close
Description
A mutational quirk that gives the user abilities of a Ram and a Sheep and makes them look like one! Excelling at running, jumping, head charging and eating. As well as producing extremely soft cotton wool. In the normal world Rams are only male, but with mutational quirk she produces both the qualities of a Ram and a Sheep
Drawback(s):
Suffers from being both Ram and Sheep
Current Limitation(s):
The limitations of a Ram and Sheep


Similar topics
---
Permissions in this forum:
You
cannot
reply to topics in this forum