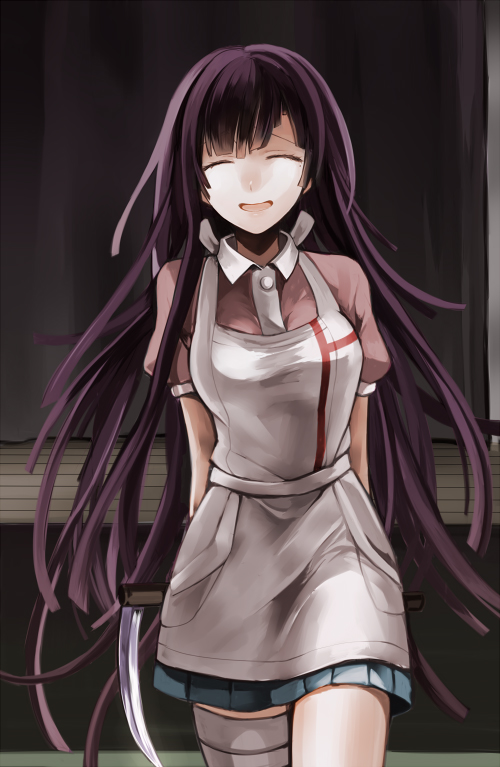 ---
Character Information
Name:
Nitsu Kiwato
Alias:
Zombie Queen
Age:
18
(Current)
Birthday:
06/06/XXXX
Gender:
Female
Blood Type:
A-
Appearence
Height:
5'10
Weight:
60K
Hair Color:
Pale-Purple
Eye Color:
Pale-Purple
Statistics
Status:
Alive
Occupation:
Senior Student
Affiliation:
Yokohama Academy
Team(s):
Jackson
Quirk:
Undead Hivemind
Character Description
This girl is around average size, she's usually seen wearing some sort of apron and wrapped in bandages. She looks frail physically and mentally. She also always seems to have tears in her eyes. She speaks with a heavy stutter and is usually hiding herself and her body away from others. Her hair is long and frizzy and her face is flushing from embarrassment..she also seems to be clumsy and trips a lot.
Last edited by Kiss on Mon May 14, 2018 4:26 am; edited 2 times in total
Story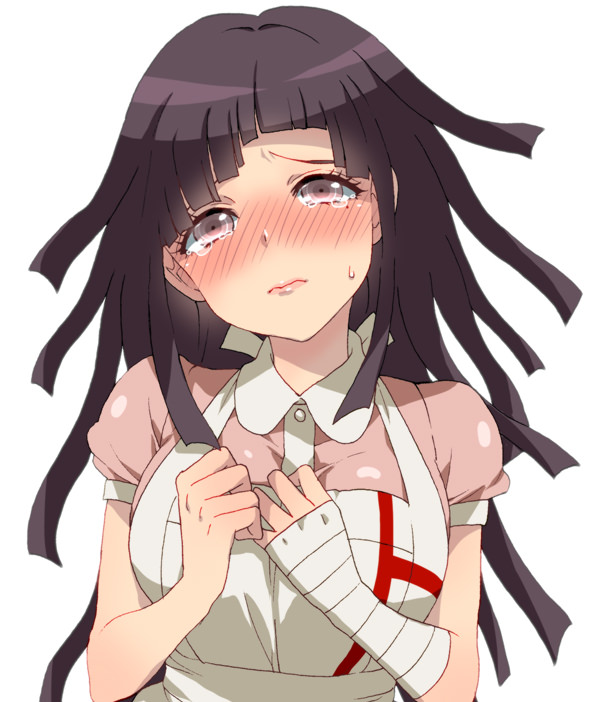 From a young age, Nitsu was diagnosed with a chronic condition of stammering. She wasn't able to control it and during the young and junior years of her life, was constantly bullied, harassed, teased. This with conjunction of her quirk caused people to call her weird and ugly names, disgusting and either push her to the floor or avoid her entirely. She failed all her subjects in school, barely attended classes and was a constant ball of crying and mess. The girl had even contemplated suicide before the beginning of Junior Year in High-school. She failed to get into the Hero-Course and was forced into General Studies with the others...when a miracle occurred.

The only person to ever talk to her, to ever be nice to her, to ever laugh with her and not at her appeared. Niju Tikan. With Niju she introduced Luron Tyalonar. The Three would turn out to be best friends, and all help each other out through the General Studies. This single encounter, the kindness and loveliness that this friend had shown upon her changed her life. She dedicated herself to them, to their friendship trust and bonds. Eventually she found a love for Alchemy, and invented a concoction to forcibly revert the effect from her quirk. Which she takes daily as to not transform so suddenly. As they progress through High-School Luron had moved on to the Support Class, and Niju had moved to Hero course. Nitsu would continue her road down the general studies, working with doctors and nurses to create medicine. She soon joined the Student Council so she could always be with her best friends.
Last edited by Kiss on Mon May 14, 2018 3:59 am; edited 3 times in total
Quirk Data
Name:
Undead Hivemind
Type:
Emitter/Transformation
Range:
Close - Transformation. Far - Control/Manipulation
Description
The User of the quirk is able to convert organic creatures into an 'undead' category. Each person is unique in the effect and transformation. However each one having different benefits and downsides. The User is able to completely manipulate and control the undeads they convert. However the biggest downside being that the User of the quirk transforms into an undead. Activation of the quirk is only possible through extreme emotional sensations. The User of the quirk is able to change back others affected by the undead forms at will but not themselves. It must either be forced or wait the time-limit.
Drawback(s):
The User must become an undead first. Strong Emotional Sensation to trigger the quirk.
Current Limitation(s):
None


Similar topics
---
Permissions in this forum:
You
cannot
reply to topics in this forum