---
Character Information
Name:
Kibo
Alias:
???
Age:
14
(Current)
Birthday:
???
Gender:
female
Blood Type:
???
Appearence
Height:
4'10
Weight:
Slim
Hair Color:
Black
Eye Color:
Crimson
Statistics
Status:
Alive
Occupation:
Student
Affiliation:
Osaka Nae Academy
Team(s):
???
Quirk:
Quirkless
Stats
Strength:
1/20
Agility:
2/20
Speed:
0/20
Toughness:
1/20
Intelligence:
4/20
Character Description
Typically a girl seen with a confident smile - that is until she appears around people. While streaming online she holds a very confident and amusing attitude, collecting a strong base of watched and making her very popular online, however, while offline she is fearful, mostly of the people around her. Her expressions can change from happy to scared, an evident fact that she is quirkless and fearful of her past becoming the present. Despite all of this she still strives to be a hero, even with no quirk and with a fear of quirk, while this is her current motive, her true motives remain hidden, as well as her quirkless nature. Often in a shirt and sweater(or shirt, or jacket - anything that covers), the latter saying 'buster'  
Last edited by Jordan1 on Tue Oct 03, 2017 5:44 pm; edited 1 time in total
Quirk Data
Name:
Quirkless
Type:
?
Range:
Description
A normal human
Drawback(s):
Doesn't have a perk
Current Limitation(s):
The stars...
Named Techniques
Technique Name:
???
Description:
Insert descriptive information of the technique here.
Inventory


Survival Backpack

Headset

Inventory Item

Equipment
*Costume Name
Description
Costume description Here
Attack Guitar
A red guitar with Spikes
A rather large guitar with spikes attacked to the base of it, making for a cool looking item and an even deadlier weapon. It is made of material that absorbs sound well, and once it is projected it can be released so hard and fast that it's visible, akin to a sound amplifying quirk.
There's also a built in amp.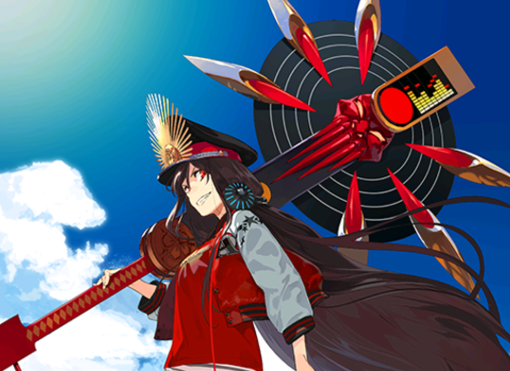 Prototype V1
A sturdy arm made of metal
A sturdy metal arm that is attached to the user. It has rotating canisters filled with liquids to be used in battle. Built into the arm is an activator - something that heats up the liquids that are shot out of the canisters. This causes it to be something that can shoot out fire, water or even explosions.


Similar topics
---
Permissions in this forum:
You
cannot
reply to topics in this forum